John Matthesius is a leading expert in the water, well and pump industry.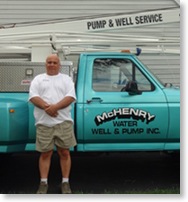 You might say the water well and pump profession runs in John Matthesius' veins. It makes complete sense that he would own and operate McHenry Water, Well & Pump. He was born into the industry – his father owned and operated McHenry County Well & Pump.
At an early age, John was on job sites helping out in ways reserved for a child who shows an interest in such things. By the age of 10, John was carrying buckets of water to the well drillers with the company. He continued to work for his father's company throughout high school in McHenry. In fact, John combined working in the family business with his education through a school sponsored work study program.
Even John's studies at
Illinois State University
were focused on enhancing his knowledge of the well and pump profession; he
majored in geology
. After all, geology is the study of the earth and the materials it is made of.
After graduation, armed with a greater understanding of the nature of rocks, minerals and hydrology, John went back to work for his father. He applied an already rich experience in the industry with his newfound knowledge to help make McHenry County Well & Pump an area
leader in the field
. Only in his 20s, John was already a licensed well and pump contractor.
Today, he has decades of experience in the field making him one of the
premier experts
on every aspect of the industry.
Community minded, service centered
With a strong sense of community, John has also volunteered as a fireman with the Wonder Lake and McHenry fire departments. He was a
certified paramedic and rescue diver
, as well. He's also a member of the Wonder Lake and
McHenry Area Chambers of Commerce
.
As a vested member of the community, John's personal and business philosophy reflect the sense of appreciation and respect he has for his neighbors throughout McHenry County. As John puts it, "
Any job worth doing is worth doing right the first time
." Companies that take shortcuts usually receive calls later on to come back and fix problems they created in the first place. Hopefully, they will.
John stands firmly behind the work he performs. However, there are an abundant number of systems he installed as much and more than 30 years ago that are still running smoothly today. With the application of
his extensive knowledge
about the well and pump industry, as well as
his commitment to quality
, about the only call back John receives is from satisfied customers calling to express their appreciation.
Call
815-403-3333
for expert well and pump repair services.
RATES
Mon-Fri: 7am - 5pm > $75/hr
Mon-Fri OT > $85/hr
Sat (All hours) > $85/hr
Sun (All hours) > $95/hr
CLOSE